Shared batch fee: Rs. 29900 ($399 USD)
1 to 1: Rs. 44000 ($599 USD)
On-demand/Offline: Rs. 14950 ($199 USD)
This course teaches you as an IT Professional, to integrate Windows Server 2022 environments with Azure services and manage Windows Server in on-premises networks. At the end, you will be ready to manages and maintains Windows Server IaaS workloads in Azure as well as migrating and deploying workloads to Azure.
This training course is the first exam (out of 2 exams) required to get "Microsoft Certified: Windows Server Hybrid Administrator Associate" certification. The second exam is: "Exam AZ-801 - Configuring Windows Server Hybrid Advanced Services".
Prerequisite
For this exam you should have several years of experience with Windows Server operating systems. Experience with managing Windows Server operating system and Windows Server workloads in on-premises scenarios, including AD DS, DNS, DFS, Hyper-V, and File and Storage Services.
Experience with common Windows Server management tools (implied in the first prerequisite).
Basic knowledge of core Microsoft compute, storage, networking, and virtualization.
Recommended prerequisite: Mastering Windows Server 2022 and AZ-104: Microsoft Azure Administrator training.
Syllabus
Please check the syllabus tab above.
☝
As Microsoft exams are updated periodically, we need to always refer the latest exam study guide published by Microsoft. Skills measured as of February 3, 2023:
Deploy and manage AD DS in on-premises and cloud environments (30–35%)
Manage Windows servers and workloads in a hybrid environment (10–15%)
Manage virtual machines and containers (15–20%)
Implement and manage an on-premises and hybrid networking infrastructure (15–20%)
Manage storage and file services (15–20%)
Click to View "AZ-800 Study guide" on Microsoft site
After completing this training, you can appear the "Microsoft Certified: Windows Server Hybrid Administrator Associate" 1st certification exam:
Exam Code: Exam AZ-800: Administering Windows Server Hybrid Core Infrastructure
Level: Associate
Total questions: 55-65 questions
Passing score: 700 / 1000
Cost: 165 USD. In India current Microsoft exam fee is $80 per exam. Worldwide it may vary.
Length: 100 minutes
Question Type: Multiple choice, Multiple selection, Drag & Drop, Solution Based Case Studies.
Recommended Prerequisite Exam: AZ-104: Microsoft Azure Administrator and Mastering Windows Server 2022
View Practice Tests for this exam!
Your Trainer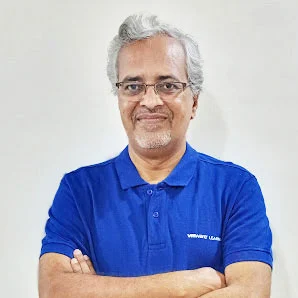 Manoj S. Mahajan
Senior IT trainer, Owner
25+ years experience, Microsoft Certified Trainer (MCT) and VMware Certified Instructor (VCI) with many certifications completed.
View profile...
Student Testimonials